Birth of a Cycling Club
Riyadh Wheelers 1991-present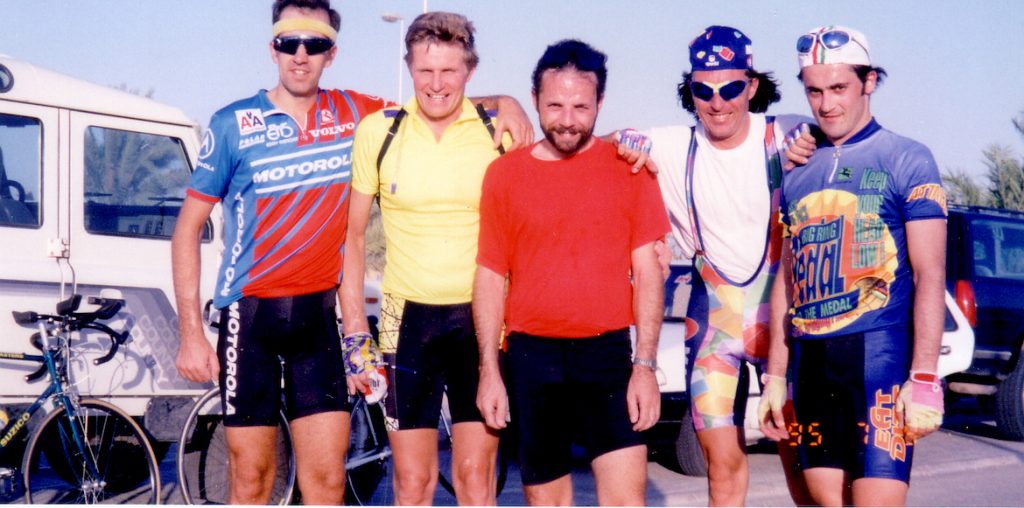 In the late 1980's the new and popular sport of Triathlon had reached Riyadh and although there was no competition as such, some of the members of the Riyadh Road Runners had brought their bikes with them and met for impromptu training sessions around the DQ.  Looking back through the records, it can be seen the Wheelers came into being after the very successful summer time trial season of 1992.  Until then, keen road cyclists would make the occasional trip to Dhahran and compete in Aramco cycling events.   Phil Wright and Keith Killingback (English) were the early driving forces, with Jean-Yves Henry (French) and Belgium Guy Rottiers adding their continental racing experience, with Mary Crickard providing vital organizational support.   It was reported by new Chairman Denis Dovey at the time, that nearly 80 cyclists had signed-up for the new season and had the club met it's "critical mass?"  The committee of the time was so concerned about the consequences of having so many cyclists on the open roads, so it was decided to come up with some rules and regulations in an attempt to be seen as a responsible club in the eyes of the authorities.
The popular summer TT's continued followed by a 12 race 1993/1994 season which saw our first Champion crowned, Australian Robert Jackson (Jacko), who traveled every fortnight (along with a BAE crowd) to compete.  By now the RW's had surpassed the Aramco events and was the only organized cycling club in the Kingdom.  The majority of riders who joined at this time (as it is now) were runners-turned-triathletes and many first time racing cyclists.  It was amazing to see how quickly they progressed from raw novices to competing in International Ironman and cycling events.  Paul Brown, Elwyn Owen, Les Bailey, Lauren Pentlebury were a few names which stood out, and with coaching and guidance from the likes of Alan Wood and Peter Waddell all progressed to greater things after leaving the Kingdom.  With the continuous turnover of members, new talent joined the committee, each bringing their own ideas and innovations.  The first kit was designed in 1994, along with our first sponsorship in the way of simple brunches and t-shirts from mainly work contacts of members.  Particularly active in this respect was Ralph Pitfield, who as GM for Taylor Woodrow was able to take advantage of the construction boom and cajole his contractors to part with some of their SR's!   Every year the hard working Chairman and his/her committee raised the professionalism of the club and with more and more sponsorship available, our club magazine and kit took on a quality and professional look, emblazoned with our sponsors names.  In return for this generous sponsorship, members were actively encouraged to select and promote the sponsors products.  Sponsors were also rewarded with as much publicity in the local press as possible, via race reports.
By 1998, the Saudi National team had brought in a Russian coach, who quickly saw the Wheelers events as an ideal training platform for his young riders, and ever since then we have enjoyed a very close and friendly association the KSA Cycling Federation with many thanks go to Abdullah Al Sarhani for his important contribution.  Very soon visiting teams and top level coaches were coming to the Kingdom through the BAE UK/KSA sports initiative organized by Peter Waddell, and we found ourselves racing against several current and ex-World Champions plus many International and Professional riders, which was certainly an experience and privilege for all of us.
By the late 90's word of the club had also spread to the US Military, and many short-tour personnel were bringing their bikes with them.  These incredibly strong and fit soldiers made our legs ache in the short time they were here, a tradition that goes on today!  Up to 2003, all our Champions had been Europeans with strong cycling backgrounds, but with the huge increase in membership of our Filipino friends, that was to change with Jaime Sunga deservedly taking the Championship, and the Pinoys are now firmly set at the top of the standings.  Filipinos make up half of our membership and their standard or racing is rising all the time as quality bikes are easily available in Riyadh, through outlets such as Giant (world #1 bike producer), avoiding the need for costly and sometimes unreliable mail-order.
Thanks to hard working committees, the organizational side of the club follows a tried and tested formula, with fixed distance events held on set courses.   However, the majority of the work still falls to the Chairman and we can all be grateful that this position has always been filled by competent and enthusiastic people, who it is rumoured, "volunteered" their services!
In 2006, IT expert Rodd Taylor opened the web site for the club which is used today as the information distribution point.
Membership throughout the years has topped 50 and has been the most consistent and successful club in Riyadh.  Our best season was in 2011/2012 where we had 100+ members competing. 
Barring a catastrophe, I can see the Riyadh Wheelers going from strength to strength.  The Club has always stood for more than just good competition; it's also about camaraderie and is an important social hub where lifelong friends are made (including some marriage partnerships!)………Long May It Continue!
Rob Patrick
Member 1993-2016