Double Ultra Triathlon Emsdetten (Germany)
10/11th June 2017
Race Report RW Member Thomas Brackmann
When I asked an athlete about her motivation to run ultra-trails she said to me; if you cannot go faster, go further -. So I decided more than one year ago to apply for the Double Ultra Triathlon in Emsdetten, Germany. I believed I only needed to train the double distance but soon I recognized it's not that way and not that easy.
Training for the double trouble
Usually I try finishing a normal iron distance every 3-4 months of the year to have enough recovery time to prevent long term injuries. Plus still having fun for the training and enjoying other hobbies as well. 6 weeks training for an ironman finish of around 12 hours is ok, so I believed 2.5 months from middle of March to end of May would be enough for a double one. I quickly realized that I should have planned more time to be able to pull off extra-long training sessions.
I planned to increase my training effort in order to have done at least once the distances of an 8000m swim, 360k bike and 84k run, however, I ended up doing 6000/295/60. In all these sessions I had breaks and split up sessions that made me worried for the race day. Nevertheless, I believed I would finish in around 28 hours (dreamed of below 24 though) even although I only trained at 60 km run in a day maximum with having breaks. I believed on race day that I could compensate lack of training by swimming in a pool in neoprene, cycling and running on a flat course and having better nutrition and support by my team. So far so good but later in race other factors emerged that I didn't plan or predict.
And into the game…
Planning is everything - logistics and team support
Several weeks in advance I had to order camping chairs, a pavilion tent, a table and an air bed for my support team. Due to overnight racing, there was no nutrition support by the race organization on swims and the bike leg so I needed people that I could trust to help me out. I didn't want to carry all the nutrition on the bike for example, so I convinced some of my friends to have a kind of "other camping weekend" with me at the race. Luckily, Wolfgang the head of my support team is a below 10 hrs ironman finisher and a rescue medic, so he knew specific needs of the race - physically and mentally. Also he gave me a kind of pressure not to be a lame duck walking the 84 km. Katalin, a triathlon beginner and good soul of the team came to the race to get inspired for her further triathlon career and was excited being part of the team. Andre the number 3 didn't have any bigger sports background and joined because we are good friends. I was happy having him onboard since in a weak moment you need someone telling you it's only swimming, biking, and running - nothing more. Later I figured out he was our social media manager for the race days and nearly half of the world knew when I was flying on the bike and having my downs on the run.
Opening ceremony - meeting the world
I already got used to racing in an international environment having already competed in Abu Dhabi, Australia, New Zealand and Senegal, but here, in this little north German town of Emsdetten there was as well an international spirit. The athletes came from 17 different nationalities, the opening speeches were held in 3 different languages, the music group was a Scottish pipe band accompanied by American style cheer leaders. But one thing was different to other big races: It was the family spirit. Since it was a small race my team and me quickly managed to get to know lots of other athletes before, during and after the race. One that stood out from them all was Fabio from Malta, a triathlon coach with the passion for charity. Later our teams made a joint effort to support both of us with food, morality, cheers and massages.
Race day - best weather conditions
They say: if you can think it! You can make it! So I tried to apply this rule but on race morning I was very doubtful - again because of the lack of training I had done. Then I remembered my niece who is suffering from blood cancer and I knew my pain will be over at least in 34 hours after cut off time, but hers is unpredictable. So I pulled myself together, took my team, the race gear and all the nutrition we prepared to the race track. Luckily the sun was up, no rain forecast for both days. Great!
Swim - fastest among the slowest
It is better being a shark in a fish pond than a small fish in an ocean full of sharks. So I felt great when I realized that I was the fastest in my lane where people even used the breast- stroke. Every 1ooom I planned to drink, and every 2000m to take in a gel, but Wolfgang, my team leader gave me on a spoon smaller portions of the gel more frequently. so the time distance between carbo intakes wasn't that long. It helped me pulling off a great swim time in accordance to my standard: 2.41. He also told me at an early stage of the swim to avoid using my legs at all as the buoyancy of the neoprene would support. In fact due to this recommendation I was faster than before.
Bike - Pain at a descent level
Later I found out I was 32nd out of 67 after the swim. Terrific! I have never had a race where I was among the top 50% of the swimmers. Quickly I came into the cycling game but did the mistake of drinking too much every 5 kilometers as I did during training in the heat of Riyadh. Nearly every hour I needed to visit the toilet at the cost of 2 minutes each time, but even Wolfgang wanted me to drink more. However, I still believed that I would finish the bike leg in a maximum of 13 hours. After 180 km I had only lost 10 minutes to complete a 12 hours finish, but then I felt sick, no food intake was possible, I wanted to throw up. I couldn't see the carbo bars and gels anymore and changed to Haribo gummy bears, Nutella bread with salt, banana and in my massage break having pizzas. Slowly the pace went down, and with extra breaks (massage, extra light set up for night) it had a cost on my planned timing. I tried to balance this out by riding longer parts on Time trial bars to save energy and to try being faster. I previously used this tactic for 70 percent of the track to avoid pain in back and neck. In curves and edges I was more upright. At the end I was slower but without pain.
But that one came later.
I finished the bike part in position 26. Until Andre told me, and showed the results on the big screen, I was not thinking about any position. All I wanted was to finish, but then I thought I could even move more forward in the rankings because running is my strongest part. I thought I could become top 20. Oh my god!
Run - rollercoaster performance
I was so happy being off the bike. Wolfgang took me under his arms and brought me to the changing tent. There I got quick but painful massage, new gels, bars, run gear and positive vibes by Katalin and Andre. I ran off like I had not done 360 kilometers on bike before, I couldn't believe it. It was close to midnight and my pace was great, no pain, on the score board I was in 25th position and I saw position 24 leading only by some seconds. That was a great motivation for me. Quickly I could go forward to 22nd position and close to 21. Then slowly the tiredness kicked in and I slowed down. In addition, I had to visit the toilet more often. At around km 35-38 I had my down, where I couldn't hold any intake for more than 3 kilometers. My support team got Coal tablets, Perenterol and Aspirin to fight my stomach issues. In this medical break I also received another massage, pasta, and motivational words from "you can do it" to "I don't want to be here until the afternoon". After this treatment I could restart running with a good pace again to around kilometer 60. Then from only 20'ish(!) kilometers left to go it was torture! I tried to run but mostly I could only speed walk at best. At that time I hated myself for not having trained more. Or was it the stomach problems that caused the breakdown? Apparently the others in the race were suffering as well since I held onto the position of 25. Finally only 3 loops more, then 2, then the last. This one I tried to run again since Katalin and Wolfgang could join this lap of honor because each participant could hold up their home flag accompanied by their support team. I felt so overwhelmed that the race was nearly over. Then only 10 meters to finish line!
Finish - The pain is over, happiness kicks in.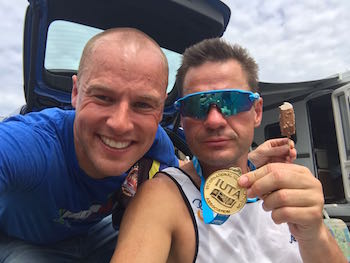 After nearly 13 hours of running / walking I had finished. In total my time was only 29.32 hours. Only later on reflection after the race I didn't like my run time. But in this moment I was so happy to have completed it and to stop my pain. Only for a glimpse in time I realized I am a Double Ironman J. In the end, it's just a race, only longer than normal. Then I realized the big hype people do for finishing a normal Ironman distance is questionable. Especially when I see that there were people in this race that had finished a Deca (10times) Ironman Distance. They did this double just as a warm up, even we do this next step in our achievements we should be always stay humble with both feet on the ground, but at the same time being proud. Nevertheless, I was also impressed by the polish winner Robert. My team gave him the name "polish robot" because he didn't show any blink, didn't do any move too much. So he was very effective. Reward: finish in sub 20 hours in new world record time!
Sum up - thumbs up
I will never forget this incredible race weekend. I had a great team supporting me and they helped me making it all the way. I liked the family feeling of the race organization and meeting all other competitors. The atmosphere was cozy and not so anonymous like in bike races with 2000 athletes. The combination of planning, training, flights, accommodation, team, and logistics made a great mix to me. And I guess it will not be the last double I do. Perhaps the triple is calling as well. Anything is possible!