Ahlin Won Twice
We want to be perfect at the Riyadh Wheelers. Meaning we think it thru, we plan a lot, we check a lot. And then events like these happen. Two days before the race Alan discovers that cuts in the roads are making the course unusable. The course is swiftly re-planned, but the chairman is at a business dinner and has only 5 minutes to send out the mail to the club. In the hurry he mixes up the mail templates and uses the 40km RR template. So everyone is confused now what race it is. Then at least the race starts and runs smoothly, till Chris our timekeeper rings the "last lap" bell one lap to early. So everyone sprints in the next lap only to discover that another lap is still to go. To turn it into something positive, we could also say: Kris who won the first sprint was now given the opportunity to demonstrate his superb skills again. What he did, and won twice! The two gentlemen who could keep up with him the closest were John Jeffrey Lopez and Arnel Maniago.
The Gillespie family paid a visit to the race, giving Emma Gillespie the opportunity to win the Cat B today. Her husband Stuart did also well but was not as successful as Emma.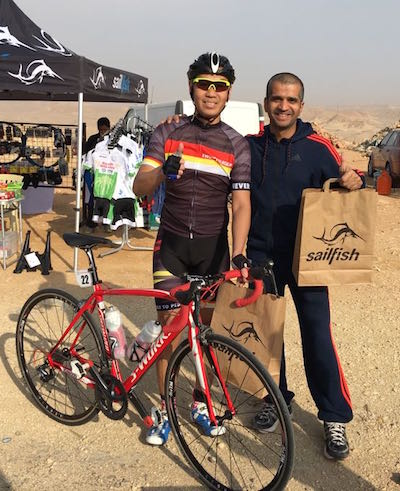 Hans Mendoza lost 4 races this season to Federica Lando. Today he could squeeze himself in front of Federica again, winning the juniors 30k. Thus today he rounded up his championship score to 800. Congratulation the Junior Champion is set for this season!
"To win" can have two causes. You earn yourself a good ranking with dedication and hard training. Or you are just lucky. Arnel Maniago did both today. He earned himself the 3rd place in the race, but also was lucky enough to win the Sport Season raffle!
Detailed results posted below. We would like to draw your attention to the RW Championship database again. Mario Turco volunteered to build and maintain this very powerful tool. See how you did so far in comparision to the rest of the club. Only two races left, so lay out your strategy to jump finally a few ranks!