Kris Ahlin strikes again in RW Hilly TT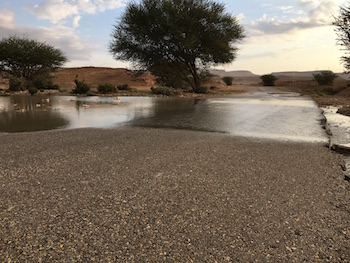 True cyclists. That is the correct term to describe each of the 45 athletes who gathered this morning on top of the Dirab ridge. Brave people who recognize that cycling is an outdoor sport and that rain is just a natural phenomenon being part of it. After a week of heavy rain and a thunderstorm till 2AM this morning, severe damages to our most iconic course in the schedule had to be expected. Whilst people just started heading out to Dirab the committee was already at the venue inspecting the course in the first sunlight. Shallow streams and a few puddles were found on the course, but the road was intact and almost clean on a 9 km stretch. Thus the distance was shortened to an 18km TT instead of the standard 28km.
Athletes having had difficulties to arrive in time via the flooded streets and the extensive course preparation took its toll, shifting the race briefing to half past 8. But shortly thereafter the first riders were flying down the descent, pushed by the heavy tailwinds and pulled by gravity. Top speeds close to 70km/h have been reported on the very technical downhill part of course. Luckily all riders reached without accidents the u-turn at the flat only to be struck by a now enormous headwind going back into the hills. All of a sudden its not downhill skills what you need, but being a climber is of good help. And once again the versatile talent of Kris Ahlin shines again, earning him another 1st place in this season! He is closely followed Geroen Guanlao and Clemens von Skwarczinsky. Dr Jiri Kuba is complementing the sub 32min club featured on the podium picture.
Congrats to Florie Marinas to beat Maria Araujo by 28 seconds in the Cat B. However after the last 25mls TT Maria has reached the perfect score. 800 points, the Cat B champion is already certain for this season!
Hans is leading the Juniors ranks once again, keeping good distance to Federica and Alexandra this time.
Regrettably, but understandable, Sport Season had to opt out this morning, to protect their mobile store from the soaking wet conditions.
Results are posted below. Special thanks to Scott and Jiri for the hard work on the course!