Hunnicutt 1st, Day Members Hit It
Temperatures as low as 11°C cannot stop the Riyadh Wheelers from having a scheduled race. At least Mother Nature sent its regards to the club by ceasing the sand storm right the night before the race. So the first longer road race of the Wheelers, planned for 60k, could go ahead last Friday. As we are still using the 11,25km course the committee had to decide between a slightly shorter 56,25km or a longer 67,5km. The latter one, coupled with a long neutral, was the choice of the day, fully trusting the superb fitness of our club riders.
Still in the first lap, respectively right after Alan waived the peloton into the race from the leading car, the big guns took off and split the field into multiple groups. What then followed, cannot not be described other than an exciting race, packed with stirring race action and great cycling minds reading the race and applying their tactics. Kris Ahlin, always preparing for long distance triathlons, put in a constant pace into the first group, making it impossible for the second group to catch up with the break away. Arnel, Jeff and Clemens were often seen at the front of the chasing group, but couldn't close the gap to the leaders. Whilst in the group of the big guns, Chad Albury tried his luck towards the end with a solo break away, but run out of juice and was caught at the last u-turn. Travis Hunnicutt pulled away from the pack, and still having the best legs he made it first to the finish line. The sprint of the chasers was won by Omar just centimetre in front of Geron and Mohammed. Picture left to right: Mohammed Khider, Travi Hunnicutt, Geron Guanlao, Omar Aljarallah.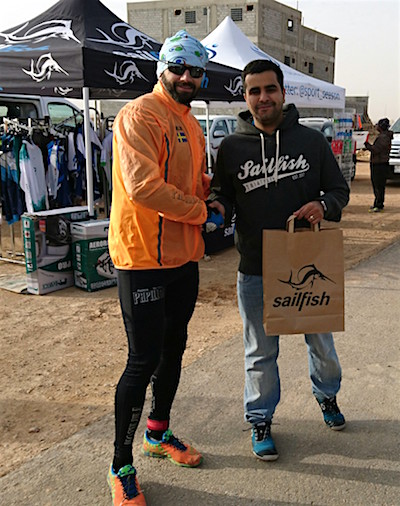 Maria Araujo secured another 100 points for the Cat B championship.
For our Juniors we eased the requirements and had them completing four laps. After the odds were against him a number of times, Hans managed to be first today, keeping Frederica at distance.
It took a while to draw a lucky number in the sport season raffle of a rider that was actually present. Finally number 1 was drawn, making Kris the happy owner of a running belt and a bike bottle.
There will be now 2 weekends without RW races, but you are kindly invited to join the MyBicycle races on Dec 23rd and 30th. Please check out our news post on Darajati championship.
Find the full results below. Congrats to everyone who made.