Windy Speedfest around Bonita
After the rainy last week the club celebrated the return of the blue skies with a speedfest around Bonita. The two big contenders Daa and Ahlin sent their apologies, leaving the windy arena to the other TT specialists. The battle against the clock and the heavy wind went to Geron Guanlao, followed by Clemens von Skwarczinsky and Jeremy Mirasol. Only one more rider Saud Almousa made it into the sub-24min club. Bruno Syfrig, normally to be expected to score high in TTs, decided to ride on his MTB. Remarkable that he still came 38. beating 28 riders on proper road racers.
Sub-24min club in the picture, l2r Saud Almousa, Geron Guanlao, Clemens von Skwarczinsky, Jeremy Mirasol.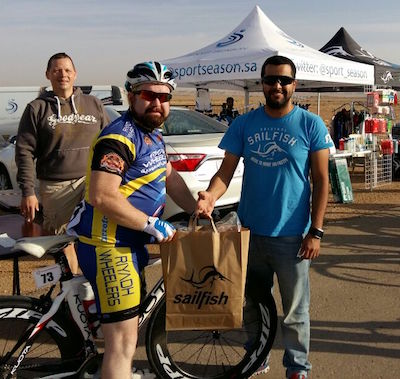 Maria Araujo claimed another 100 points for the Cat B championship, now having an almost perfect score of 599 out of 600 possible points.
Winner of the sport season raffle was Doug Barnes, now the happy owner of high quality product from Compress Sports.
Full results below, congrats to everyone who made it: